Decibel Books ha anunciado la publicación de 'Turned Inside Out: The Official Story Of Obituary', la biografía totalmente autorizada de OBITUARY, la institución del Death Metal de Tampa, Florida.
Conformado por la voz inhumana de John Tardy, el tono de guitarra obscenamente brutal de Trevor Peres y la brillantez rítmica del baterista Donald Tardy, OBITUARY redefinió la pesadez a lo largo de la década de 1990. Desde los clásicos indiscutibles 'Slowly We Rot' y 'Cause Of Death', pasando por una pausa inesperada hasta su actual renacimiento creativo, OBITUARY ha sido pionero, definido y expandido el Metal Extremo, convirtiéndose en uno de los actos más reconocidos y respetados del underground.
'Esta es la primera vez que nosotros, como banda, nos hemos abierto oficialmente a los fans', dice Donald Tardy. 'Echamos un vistazo al pasado, recordando cómo empezó todo en Tampa. Compartimos historias del estudio y la carretera, y también el caos a lo largo de nuestra carrera como realmente fue: lo bueno, lo malo y lo feo'. Inside Out deja las cosas claras después de 35 años: 'Estos son los eventos que nos hicieron quienes somos y los hechos que lo hicieron historia'.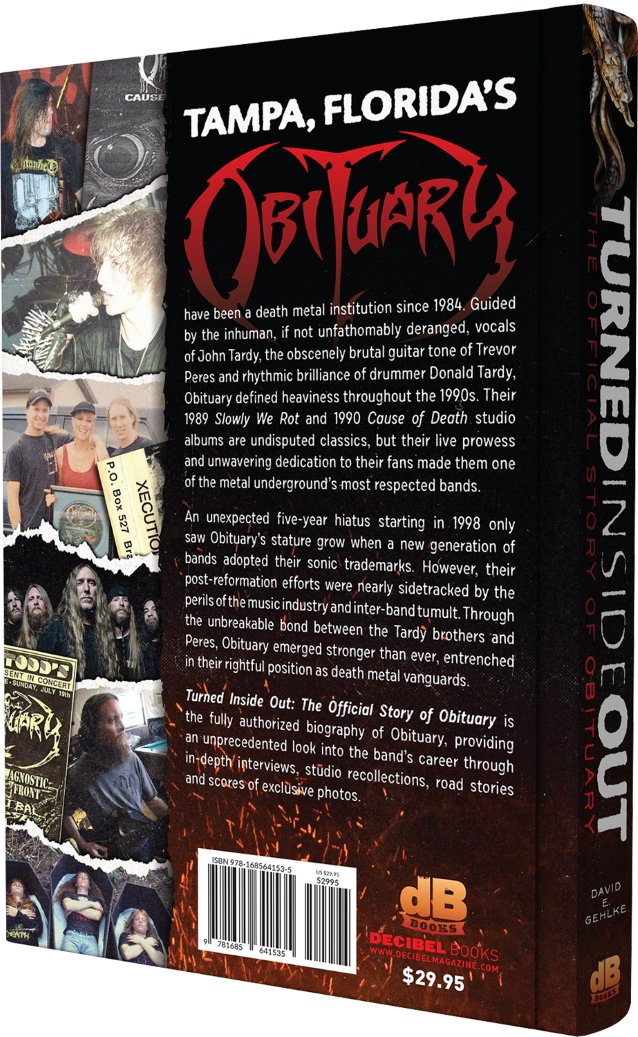 David E. Gehlke, autor de 'Damn The Machine: The Story Of Noise Records' y 'No Celebration: The Official Story Of Paradise Lost', ofrece una mirada sin precedentes a las leyendas del Death Metal a través de entrevistas completamente nuevas y en profundidad con miembros de la banda pasados ​​y presentes, ingenieros de grabación, contemporáneos de la escena y veteranos de la industria musical que han trabajado directamente con la banda durante las casi cuatro décadas de carrera de OBITUARY .
Repleto de cientos de fotos raras y nunca antes vistas, así como un prólogo de Max Cavalera (SOULFLY , SEPULTURA), la tapa dura de 328 páginas 'Turned Inside Out: The Official Story Of Obituary' está disponible exclusivamente para pre-pedido ahora a través de decibelmagazine.com. Se espera que las copias se envíen a principios de enero.
En marzo pasado, John Tardy le dijo a United Rock Nations de Francia que OBITUARY ha utilizado parte del tiempo de inactividad durante la pandemia de coronavirus para trabajar en el material de un nuevo álbum de estudio. 'Definitivamente hemos estado trabajando en nuevas melodías y nos hemos estado tomando nuestro tiempo', dijo. 'No teníamos ganas de lanzar un nuevo álbum, ahora en medio de la pandemia cuando no puedes ir de gira y apoyar no es lo que queríamos hacer, así que no tenemos prisa. Pero por el el año que viene, vamos a salir a la carretera, estamos recibiendo recorridos establecidos, y se lanzará un nuevo álbum el próximo año antes de salir a la carretera y empezar a viajar otra vez. Así que estamos trabajando actualmente en la nueva material.'
Cuando se le preguntó qué pueden esperar los fanáticos del seguimiento del álbum homónimo de OBITUARY de 2017, John dijo: 'Creo que va a sonar como OBITUARY [Risas]. Nos conocen, somos una especie de hombres de las cavernas; no me gusta evolucionar demasiado. Nos gusta cambiarlo y hacer un poco aquí y allá, pero creo que nos estamos volviendo demasiado viejos para cambiar demasiado. Así que mientras sea pesado y contundente, eso es lo que puedes suponer.'
Links: Facebook | Instagram | WebSite
About Author